Image will change as storm progresses:
Reuters
ST PETERSBURG, Florida (Reuters) - Forecasters issued a hurricane warning for much of Florida's Gulf Coast on Monday as Alberto, the first tropical storm of the 2006 Atlantic hurricane season, strengthened ominously and threatened to dump heavy rains on the state.
The storm, centered near latitude 27.1 north and longitude 89.5 west in the Gulf of Mexico, was about 190 miles south-southwest of Apalachicola, in Florida's northwestern panhandle, at 11 a.m. EDT, according to the U.S. National Hurricane Center (http://www.nhc.noaa.gov).
"Alberto has the potential to become a hurricane within the next 24 hours," the U.S. forecasters in Miami said, adding to a sense of foreboding in a state hit by eight hurricanes in the last two years, including Katrina, which went on to devastate New Orleans.
Energy experts said Alberto was expected to miss Gulf oil platforms.
Alberto's maximum sustained winds had increased to near 70 miles per hour (110 km per hour), and further strengthening was possible, the center said. Tropical storms become hurricanes once their maximum sustained winds reach 74 mph (119 kph).
Alberto dropped heavy rain on Cuba and was predicted to make landfall north of Florida's heavily populated Tampa-St. Petersburg area on Tuesday, cross the state, and then enter the Atlantic.
Tides were rising and rain was starting to fall on Florida's west coast.
Forecasters said 4-8 inches of rain were possible through Tuesday across parts of Florida and Georgia.
The rest of this article is found ....
Reuters
=================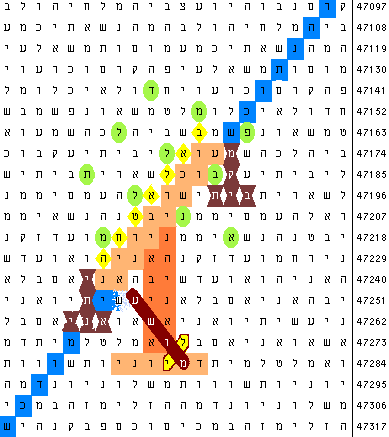 The timing and not so much the strenght of this storm is what is worth noticing.
This is 360 + 360 days (i.e., 720 days, or "a times") after Hurricane/Balance Picture Bible Code for those following this line of things. I could not have chosen a better starting date for the season than this! (June 20-27, 2004, + two years of 360 days = June 10th (Depression One forms at 8 am) - 17th (about when it is expected to dissolve completely), 2006, with the evening of Tuesday of June 13th being the middle of the week, which is when the storm is expected to hit).
It looks like God is aiming for Florida and the Gulf again this year to graciously get America's attention that all is not as it were, but that God desires her attention and to repent.
The following is the document that has been on the internet for a while now.
http://www.bible-cod...-hurricanes.htm
Below is a table that is messy when pasted here on the forum but if you go to the above page then it is in its proper format. Also, all the other hurricanes are listed there as well. Especially note the last seven storms of last years Atlantic season. Note the 720 days ("a times") of the below chart. This chart
itself
has been on the net for about 12 years. The 720, here, is the same 720 of the chart forwarded by the said 1260 + 1335 years from Ezekiel's 390-day seige to the day, etc.
That is a big ETC! One that I can't elaborate now, but have spoken about it often over the past two years for whoever has been paying attention. I will not repeat myself. Read the articles with its links if you like, but it is complex so if you don't like complex things then please forget it! Don't boggle your brain! Just ignore me!!!! I don't want people complaining they don't understand but are themselves unwilling to take a few hours and ponder the various articles on my website to find out. And that is OK! If I were you I probably wouldn't take the time either! I more or less post this here just as a statement to whoever is interested that, "Here we go again!"
For those who have not been following this, then I am just a kook! And that is alright. I would think that of me too if I were you and did not know that background of these things and have not been following them these past 720 days!
As I said, the following chart reads much more clearly in its originally format taken from here:
http://www.bible-cod...-hurricanes.htm
Table 11 (All five time-lines are of equal value.
They represent three ways of describing a seven-year period.)
Ezekielís siege|July 593 ______1290 + 1260 days_____July 586 BC|ExileEzekielís siege|July 593 _ExileEzekielís siege|July 593 ___390 + 720 + 180 + 360 + 720 + 180___July 586|Exile
The green represents the two sieges that total 1290 days,
†the red represents the in between period of 1260 days.
Ezekielís siege|July 593 (_390) + (
720
+ 180 + 360) + (720 + 180)_July 586|ExileEzekielís siege|July 593 (_390 ) + (1260) + ( 720 + 180)_† July 586|Exile†It is this middle 1260 days that is being forwarded by 1260 + 1335 years to the present about which we speak.†
See www.1260-1290-days-bible-prophecy.org
†for more on meaning of these numbers!
http://www.bible-cod...-hurricanes.htm
This post has been edited by Shekel: 12 June 2006 - 12:44 PM