The
Baal Bible Code
mocks Buddha in paticular. Here is how...
========
http://www.bible-cod...-bible-code.htm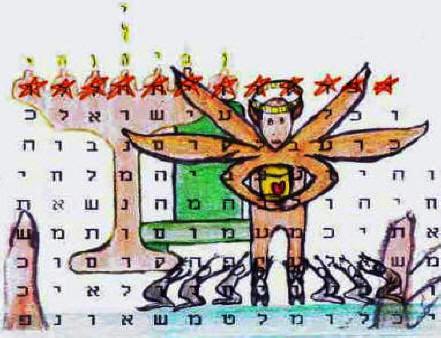 The Baal image symbolizes all false gods, including the false god of Buddhism, which the very popular Digest Bible Code site was unwittingly uplifting. Both their codes and this Pictographic Bible Code are from Isaiah 45-46 (although there's spans many more chapters).
I find this to be an amazing example of spiritual warfare, of which I was unaware until only a couple of months ago. There has been a contest between Buddha and Jesus these past few years that God has been revealing this code to me, as found the two websites, likely unawares to either of us! They held up Buddha while this one mocked him!
They even discovered a code that so remarkably agreed with what the Baal Bible Code reads, and it also mocked Buddha the very same way that the Baal Code does, even calling Buddha "Baal"! And they discovered it independently of me. It crosses the very same text of Isaiah 46. I was unaware of it until I saw it on their site! The odds of that happening are astronomical!
However, they put a positive interpretation on it, and also did not translate "Baal" as "Baal", but rather as "master", which is what "Baal" literally means! This only proves that they discovered a code with no thought of my website at all. Moreover, as best as I can tell, while they were discovering it, I also was working on the Baal bible code, making my own discoveries!
(I am not saying that the Digest site endorsed Buddha directly, but only that they unwittingly fell to some degree under its influence. No slur intended. According to them, they are simply trying to adhere to a "scientific" method of discovery.)
http://www.biblecode...om/page.php/574
=========
However, here is how the same letters can also be translated. (The difference is small, but important!)
"And in the days of his utterance, it (grief) will happen! O' Buddha! Ha! Ha! Ha! For his name is, "Confusion from the Lord"! Who is the "Mighty Baal" of bitterness"?!

The word for "Bitterness", or "grief", here, is "Mara", which is the name of Satan in the Buddhist religion! To Buddha, what this code reads would mock the heart and soul of Buddhism. Hence, it can read:
"Who is "Mighty Baal"? Satan!
("Lit. "Mara".)
And the word for "confusion" here, not only mocks the fine sounding utterances found in Buddhism, but is from the same root word for "Bel" and "Babylon"!
The word for "Mighty Baal" uses the Hebrew plural of majesty, which is how at times it is also used in the bible in reference to Baal.
And all this is the same sort of mocking that the Baal Bible Code does as well, which I am sure, Miki, that
perhaps
you can point out.