Shekel, on May 9 2008, 12:27 PM, said:
I am reminded of this little sign that happened on the 60th anniversary of the UN.
Perhaps a similar sign will occur on Israel's anniversary?
A mina in the bible was worth 60 shekels. "Mene" in "mene mene tekel uparsin" in the writing on the wall (Daniel 5) also means a mina (that is, a coin worth 60 shekels in Babylon). Hence, "mina mina", or "60 and 60 shekels", which I said back
2.5 years
ago speaks of years.
60 years/shekels for the UN and 60 years/shekels for Israel???
A little far fetched I know, until you read the
mene tekel bible code!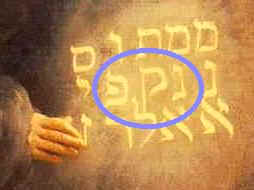 Shekel:
Read about the Moses lifting up the serpent on the pole and its
relationship to the May 14th, 2008 sixty(60) years anniversary and the
. . . " Their sixty years there are known as the Exile " ( read below )
http://www.lectorpre...ross_yrABC.html
First reading, Numbers 21:4b-9
Our Liturgical Setting: In today's gospel, John 3:13-17, Jesus refers to the incident related here. "And just as Moses lifted up the serpent in the desert, so must the Son of Man be lifted up, so that everyone who believes in him may have eternal life," Jesus says. The lifting up of the Son of Man means all of his being raised on the cross, being raised from death, and being raised to the right hand of the Father. So, as is often the case, the gospel takes a symbol, a stance, or an action from the Hebrew Scriptures and shows Jesus transforming and transcending it. Jesus makes old forms obsolete, introducing something unexpected and, if not unprecedented, "underprecedented."
The Historical Situation: The Book of Numbers tells parts of the story of the Hebrews' journey from Egypt to the Promised Land, events that happened in the 13th century B.C.E. But the book as we have it was written much later. In the early 6th century B.C.E., the descendants of those earlier settlers were invaded and defeated, and many were taken as captives to Babylon. Their sixty years there are known as the Exile. When they finally got to return to their homeland, by then known as Judah, their priests wanted to help restore the nation. One of their methods was to revive a sense of the people's more glorious early history, so they retold a number of ancient stories from the time of Moses, producing what we now know as the Book of Numbers.