Rabbi Yitzhak Kaduri Names Messiah

Secret Letter Unsealed
Posted 30 April 2007 - 01:12 PM
That is so awesome.... Praise God! Thanks for sharing.
---
Posted 30 April 2007 - 01:32 PM
YEAHHHHHHHHHHHHHH!!!
That is some GOOD NEWS!!!
I certainly do believe that it is a prophetic sign!
He's COMING! He's COMING!!!!

---
Posted 30 April 2007 - 01:48 PM
This post has been edited by Messiahiscoming: 30 April 2007 - 02:10 PM
Amos 3:7
"Surely the Lord God will do nothing, but he revealeth his secret unto his servants the prophets."
---
Posted 30 April 2007 - 02:25 PM
Sweet Val! Yes, Chuck has been in Israel for the past week and this is hot off the presses.
The Secret Name Now Revealed
One of the most prominent rabbis in Israel was Yitzhak Kaduri. When he died a year ago at the remarkable age of 108 , over 200,000 attended his funeral. A few months before he died, he wrote a small note, which he requested should remain sealed for a year after his death. It has recently been unsealed; it is now obvious why his last wish was to wait one year after his death before revealing what he wrote. (The custom is that for one so long departed he is less vulnerable to post-mortem derogatory attacks.) The secret note(written in Hebrew) reads as follows: Regarding the Reishei-Tivot of Mashiach: He will lift the people and rove that his word and law are valid. Written with my signature in the month of Rachamim [Elul], 5765, Yitshak Kaduri. The term Reishei-Tivot is a reference to a common mode of kabbalistic "coding," wherein a name or phrase is spelled using the first letters of the words in a sentence or paragraph. The Hebrew sentence (translated above in bold) contains the hidden name of the Messiah as an acrostic: Yarim Ha'am Veyokhiakh Shedvaro Vetorato Omidim The initial letters form an acrostic for Yehoshua (or Yeshua, which is the same name),1 derived from same Hebrew root for "salvation." Yehoshua is the English spelling for YHWH ("Yahweh is salvation" or "Yahweh saves"). Most English Bibles mistakenly translate YHWH as "the LORD." But God said, literally, "I am YHWH; that is my name."2 The Messiah's name is Jesus! When the name of Yehoshua was revealed in Rabbi Kaduri's message, Jewish rabbis—especially the ultra-Orthodox—have found this extremely unsettling. There were some initial attempts to deny the authenticity of the note (even by Kaduri's son, Rabbi David Kaduri), but they have proven futile. Israel Today has confirmed the reliability of the report.
* * *
Notes:
1. Cf. Zechariah 6:11; Ezra 3:2. The same priest adds the holy abbreviation of
God's name, "ho", in the father's name and Yeshua.
2. Isaiah 42:8.
http://www.khouseafr...MAY07%20RSA.pdf
This post has been edited by daysofnoah: 30 April 2007 - 02:26 PM
Shalom!
Scott
Psalm 102:16
---
Posted 30 April 2007 - 02:48 PM
Oh wow! My heart skipped a beat!
"A bruised reed shall he not break, and smoking flax shall he not quench, till he send forth judgment unto victory"— Mat 12:20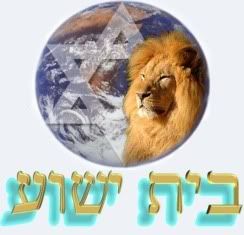 ---
Posted 06 September 2007 - 11:41 AM
Hello, I just wanted to comment on your posting.

You mentioned: "Yarim Ha'am Shedvaro Vetorato Omidim"

I have some knowledge of Hebrew being that I took some as a foreign language in college. This phrase doesn't make any sense the way you wrote it.

It literally means: "To raise people to prove his words and his teaching to stand (I think)"

In Hebrew, however, this is gramtically incorrect. Most likely, "Omidim" is not the correct word, but "Amitim" which means "True". If so, the proper translation would be:

"To raise people to prove his words and his teaching are true!" Whcih of course would make much more sense.

If "Amitim" is the correct word(most likely), the this acrostic doesn't spell YEHOSHUA.

Please tell me where you found this verse (In Hebrew) so that I can see it for myself.

thank you very much, and any comments are welcome.

I may be wrong, however, I just want to help clear things up.

A seeker of truth (no pun intended)

reb noson

---
---
1 User(s) are reading this topic

0 members, 1 guests, 0 anonymous users