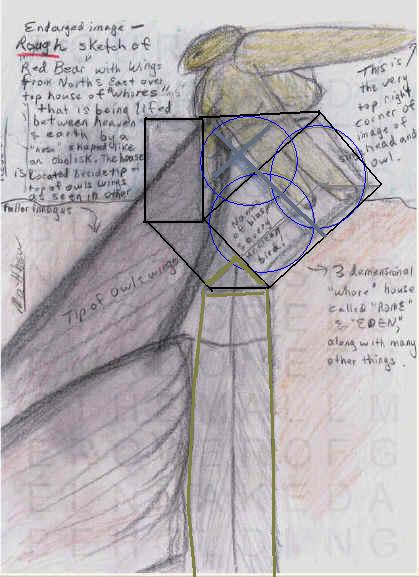 Quote
The KJV bible code has within it an image of a whore house. It is formed from the following encoded words: "Whore" (2x), "Sow" (2x), "Men" (1X), "Who" (3x), and "Hoo!" (2x). It is located at the very tip of the top outstretched-wing of the owl, whose wing reads: "Torn Hoot, ow! Owl!", etc. (This house is the counterfeit of the "temple" of God. There is also an image of the true temple of God. It sits like a crown upon the owl's head located to the left of the false temple/house. The owl is used as both a symbol of good or evil depending on the context.)
Over top the house is a winged "red beast". This beast is a winged bear. The bear is spelt "bare" in order to draw attention to its nakedness because the beast is fornicating with the whore of the house . The beast has "men" in its claws.
This house in located on top of a hose-shaped obelisk that reads, (at every other letter), "Who made", which overlaps the words, "Hoo meal". (This is a play on words for owl-related sounds). The hose also reads, "Ern" - "Ark" (An
image of an ark
also overlaps this entire image.)
Is the see through house representative of where the abomination of desolation takes place? You talk about the Dome of the rock, Rome..and the unclean thing pictured as a fornication..Also mystery Babylon the great...
But is it in Jerusalem?
Much of the OT
discusses the fact the Israel has made herself a whore. Is this the end product of such?
Could we also surmise that this is the possible rebuilt third temple which doesn't fool everybody because even though 2/3 are killed 1/3 flee into the wilderness. Do you think the 1/3 that flee where duped by the AC since we tend to conclude they are the remnant.
While its a whore house for some....for others... its preservation has been a protection. (God protects his real estate no matter who occupies... for his name sake.)
And what about the other temple you discuss in the image? Would you mind outlining it and talking about it in relation to this see through house.
I can't even find it again as l go back to look so little is discussed about it. You've done a lot of updating. It's really amazing.