Have you heard of the Methuselah generation of butterflies?
"While the average lifespan of a monarch is between four and six weeks, each year there's one generation -- dubbed the Methuselah generation -- that lives as long as nine months and makes the trek south to Mexico. Once there, the monarchs roost in mountain forests, hibernate and reproduce.
But the migration is a one-way trip. Only their progeny make the return journey."
http://lfpress.ca/ne...887016-sun.html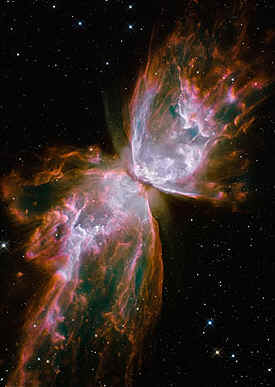 The name is taken from the bible. Methuselah was Enoch's son. Methuselah died in the year of the flood (likely a week before). His name means, "His death shall bring (the flood)". Thus, Enoch's son was a sign and prophecy that when he died, judgement would come. It was sort of like Simeon in the bible, that he would not see death until he saw (the baby) Jesus, "the Lord's Christ".
By connecting the name of Methuselah to the Monarch butterfly, we see a beautiful symbol.
Methuselah's name means (or sounds like in Hebrew) "His death shall bring..." And when a butterfly "dies" as it were, upon that twig (tree/cross), and is buried in its cocoon like Jesus was buried in the tomb, then we see that the "death of (Jesus) brings" judgement, but ultimately death and resurrection, just like the butterfly, who flies away up to heaven.
Methuselah signalled the flood, and then Noah and his family were 'cocooned' in the ark for a year, and then they came out to a whole new world, and produced a whole new offspring, just like the Methuselah-generation Monarch butterfly does.
==========
Here is another thing: Methuselah lived longer than any man ever recorded. And since his death was anticipated to be a sign of judgement, the fact that he lived longer than any other is a sign of the grace of God waiting patiently 120 years until the flood, not wanting to bring it. And this agrees with what Peter said:
1Peter 3:20 Which sometime were disobedient, when once the longsuffering of God waited in the days of Noah, while the ark was a preparing, wherein few, that is, eight souls were saved by water.
In the same way, God delays now in order to give men opportunity to be saved. But He will not wait forever. In the case of Methuselah, it appears that the set boundary that God was willing to delay judgement was up until the age of 1000 years. Methuselah was short of this by a mere 31 years.
I just think that it is wonderful that God delights in mercy. Enoch was a prophet (his name meant, "teacher"), and his son was a sign, and as each year went by those who believed the prophet wondered when he would die and thereby learned of the grace of God as this man began to grow so very old. And this coming from a prophet who himself did not see death!
How much more remarkable, then, would the sign of his son had been, being thrust upon the minds of those who lived at that time before the flood, seeing that Methuselah's father was miraculously taken up to heaven, taken ahead of the anticipated judgement?
Here are the names of the first 10 people of the bible, and note the importance of each name as together they tell the story of Christ.
==================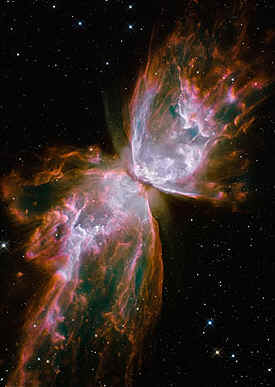 "Butterfly Emerges from Stellar Demise in Planetary Nebula NGC 6302. Image released to public on Sept. 9, 2009.
The timing of its release makes me wonder if it is a sign?
See
http://www.bible-cod...code.htm#Update